Acne
Fighting acne is no longer a losing battle
Active Acne
Acne is one of the most common and most troubling skin conditions, but unfortunately it is also one of the most stubborn, causing those affected both physical and emotional suffering.
Contrary to popular belief, acne is not caused by dirt, nor does stress and diet have much of an impact. Acne starts when hair follicles and pores become blocked with the natural oil produced by the skin (sebum) and dead skin cells. Within a blocked pore, bacteria (P.acnes) multiplies and causes inflammation. Blackheads and whiteheads form, and in cases of inflammatory acne, pustules (spots) , nodules, and even cysts.
Intense Pulsed Light (IPL) releases yellow, green and red light in a series of short pulses. The yellow/green light destroys the bacteria (P.acnes) that live in the skin and cause acne (this is how natural sunlight helps to improve acne), while the red light directly targets the overactive sebaceous glands.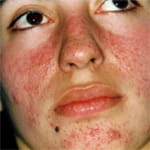 Before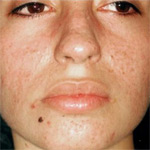 After
Obagi CLENZIderm is the only prescription-strength acne treatment that contains a patented, solubilised form of 5% benzoyl peroxide (BPO) to penetrate deep into the follicle and treat acne where it starts. This 3 step Therapy is clinically proven to better penetrate the follicles for effective P. acnes bacteria reduction and rapid lesion reduction.
Clenziderm
4 week treatment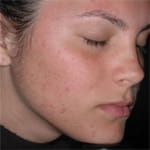 Before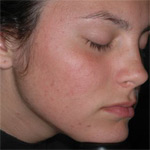 After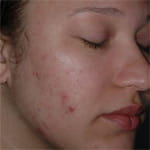 Before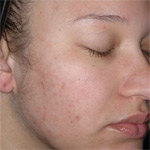 After
Clenziderm
4 week treatment
Most people have a mild form of acne that usually clears up after their teenage years, but sometimes more severe complications e.g. acne scarring and hyperpigmentation can develop if you have moderate or severe acne.
At The Hadleigh Clinic we offer skin care and treatments to minimise outbreaks and improve acne scarring allowing you to feel better about your skin.