Tear Trough
Reduce the appearance of dark circles and tired eyes
Tired Eyes, Tear Troughs and Dark Circles
If you always look tired even after you've had a good night's sleep it can be disheartening and make you look older than your years. Tear Trough Treatment is a non-surgical ten minute eye-lift that can restore your looks instantly.
As we age the delicate skin under the eye becomes lax and the cheek fat descends into the middle of the face leaving semi-circular creases and depressions known as tear troughs. These depressions make the eyes look 'sunken' and produce the illusion of darkening around the eyes resulting in 'dark circles' or 'tired eyes'.
Dermal fillers are now used to eliminate the hollows you may have beneath your eyes and bring them back from the depths. By lifting these depressions it can take away the tired appearance and lighten the dark circles caused by shadowing. Introduced under the skin using very fine needles, fillers re-create the plump, firm foundation your delicate under eye area had previously.
Tear Trough
Before and After Treatment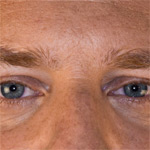 Before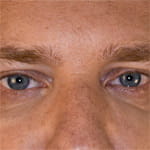 After
Additional treatments/products:
Subdermal Fillers (Sub Q or Voluma) - to restore the lost volume in the upper cheek area for a more youthful look.
Obagi Elastiderm™ Eye Cream – This isn't just another eye cream. By using a revolutionary bi-mineral complex called Copper Zinc Malonate, it really works to help restore the elasticity around your eyes and reduce the appearance of visible fine lines and wrinkles.
Other causes of dark circles:
At The Hadleigh Clinic we pride ourselves in offering our clients honest advice and in only recommending treatments which we believe to be safe and effective. Sometimes however we may advise you that no treatment is appropriate. While dermal filler treatment is beneficial for true tear troughs, the appearance of dark circles may also be the result of small blood vessels under the skin beneath our eyes. These blood vessels can cause the appearance of dark circles when they swell beyond their normal size (e.g. due to nasal congestion, smoking or fluid retention) or when the surface skin doesn't conceal them well due to thinning skin. Genetics can also be a factor, particularly those with either very fair skin or darker skin types, who are just prone to dark circles. In these situations it is more advisable to conceal than to correct.