Laser 360
3 technologies + 60 days = 360° degree turnaround in skin tone, texture and colour
Intro
Laser 360 is a skin treatment for anyone who would like to revitalise their skin without invasive procedures and injections. It combines 3 revolutionary technologies to deliver softer, younger looking skin to your face, neck and chest in just 60 days.
Laser 360 uses 3 technologies in 60 days for Complete Skin Rejuvenation! These are Intense Pulsed Light (IPL), Near Infrared Skin Tightening (ST) and Laser Skin Resurfacing (PIXEL).
1. AFT Intense Pulse Light (IPL) for colour
This advanced pulsed light therapy targets discoloration of the skin. Targeting colour from excess melanin, sun over-exposure areas and blood vessels, the AFT 540nm can virtually eliminate colour irregularities in your skin.
2. Laser Skin Tightening (ST) Near Infrared (NIR)
Over time, our skin begins to lose its firmness due to the loss of collagen, the foundation of our skin. The ST module of the Harmony safely produces deep dermal heating, stimulating the growth of new collagen to support your skin for a more youthful, contoured appearance.
3. Pixel™ for texture and tone
This precision laser creates thousands of microscopic perforations, which stimulate new collagen to grow. The new collagen improves your skin's texture and tone to smooth fine lines and wrinkles. The skin around each of these perforations remains intact, which allows the skin's top layer to heal from the edge of these tiny holes very rapidly. Pixel also provides an ablative treatment to the outer layers of your skin improving its texture.
Below is an example of the Laser 360 Skin Rejuvenation programme:
Day 1: Colour + Tightening - IPL + ST
Day 8: Texture - Pixel
Day 18: Texture - Pixel
Day 30: Colour + Tightening - IPL + ST
Day 40: Texture - Pixel
Day 50: Texture - Pixel
Day 60: Colour + Tightening - IPL + ST
This is a guideline only and not an exact timeline for the treatments as each individual person will respond differently to the treatments. Your own customised treatment schedule will be discussed during your consultation with our medical team
Laser 360 Before and After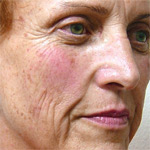 Before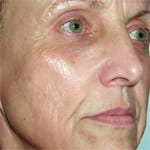 After