Obagi
The world's leading prescription-strength skin care range
OBAGI

®

System
You've seen the anti-ageing skin care claims, in newspapers, magazines, and even online. You have been offered 'hope in a jar,' apparently "because you're worth it", but no matter how skin care brands are being hyped in the market many of them do not deliver the results they promise. Why? Simply because they are 'cosmetics'; and therefore, unlike pharmaceuticals/prescription only products, they are not licensed to penetrate through the epidermis and affect the structure and function of the skin.
OBAGI is different!
OBAGI is the world's leading PRESCRIPTION-STRENGTH skin care range only available from a qualified physician. Every product has been thoroughly researched and clinically tested with stunning results. With a wide range of products suitable for all skin types you'll be amazed at how your skin can be transformed – brighter, clearer, softer, smoother, firmer and naturally younger!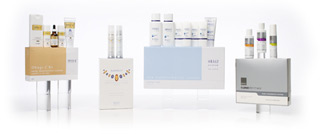 OBAGI NU-DERM
Sun exposure, ageing, stress, pollution and hormonal changes change the way your skin cells function and the process of cell turnover/renewal. Common signs are wrinkles, brown spots, freckles, agespots and an uneven, rough texture. Obagi Nu-Derm delivers prescription ingredients to your skin on a cellular level to correct the damage and increase cell turnover, resulting in an amazing transformation of skin that looks and acts younger and healthier. Read More....
OBAGI-C Rx
Obagi-C Rx is a complete skincare program that proactively corrects the early signs of ageing and environmental damage to help restore and maintain healthy, youthful-looking skin. The system works together to even skin tone and restore the skin's natural glow. Read More....
OBAGI PROFESSIONAL C SERUM
Protects your skin from tiny molecules known as 'free radicals.' Free radicals dramatically multiply with exposure to sun, air pollution and other environmental assaults, ravaging skin cells and breaking down collagen that gives skin its youthful resilience. Read More....
OBAGI ELASTIderm™ EYE
Elastiderm is not a moisturiser. Rather it uses a bi-mineral complex that has been clinically proven to help restore the elasticity of the delicate skin around the eyes and reduce visible fine lines and wrinkles. Read More....
OBAGI ELASTIderm DECOLLETAGE™
The Elastiderm decolletage system is a revolutionary skincare system designed to reduce hyperpigmenation (discolouration), age spots and the appearance of fine lines and wrinkles on the delicate chest and neck area. Read More....
OBAGI CLENZIderm™
Prescription-strength acne therapy which is clinically proven to provide clearer healthier skin in as little as two weeks. Read More....